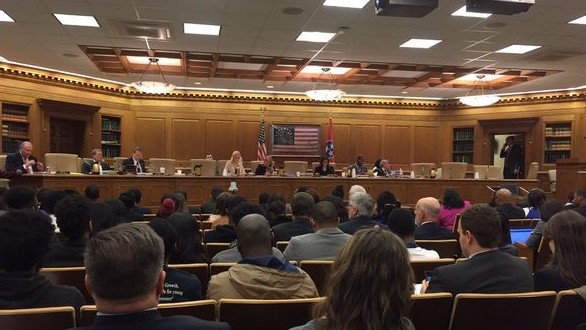 The Senate Education Committee on Wednesday voted to recommend a budget amendment, sponsored by Senate Education Chair Dolores Gresham (R-Somerville), that cuts and re-assigns $8 million from the UT Knoxville budget to UT Extension and to rural outreach through UT Martin and UT Chattanooga. Further, the amendment's language states "only federal funds shall be expended to support the Office for Diversity and Inclusion at the University of Tennessee at Knoxville."  This language is concerning, as it restricts the University's ability to fund the Office's operations with state, tuition, or private gift dollars. It should be noted that the Office of Diversity and Inclusion at UT Knoxville receives no federal funding. The amendment has the effect of stripping all of the Office's funding sources and was unexpected and disappointing to UT leaders given the months spent informing lawmakers of the accomplishments and important work of these programs. The University of Tennessee's commitment to diversity extends beyond race and ethnicity, and encompasses many aspects including gender identity, sexual orientation, religious belief, geography, physical ability, socioeconomic status, veterans status, and family educational attainment (first generation college students), among others.
A number of steps remain in the legislative process before the General Assembly passes the annual appropriations bill, which it is expected to do sometime in April. Specifically, to become an official part of the state budget, the amendment would have to be:
The annual appropriations bill has not yet been calendared for consideration by the General Assembly's Finance Committees. We will continue to provide advocates with updates as more details unfold, and UT leaders will continue to communicate with legislators regarding the importance of funding for UT's diversity programs.
Overall, diversity and inclusion efforts across the UT System are "mission critical," UT President Joe DiPietro told the Joint House Education Committee on Wednesday. These efforts not only help the University of Tennessee meet the demands of employers seeking a diverse workforce prepared to operate in a global economy, but also assist in deterring inappropriate and insensitive behavior across the UT System.  DiPietro cited examples of such incidents in the hearing.
Advocates are encouraged to view footage of the House hearing, where UT's commitment to diversity programs was discussed, at the following link.  The hearing begins at about the 17-minute mark.
Advocates can also view footage of the Senate hearing, where the budget amendment was proposed, at the following link.  UT's testimony begins at approximately the 35-minute mark.
Please stay tuned for more information on this issue.
Tags:
diversity
,
UTK