UT Knoxville Interim Chancellor Wayne Davis presented recent accomplishments of the campus, its students, and faculty during a summer study session of the House Education Committee.
Quietly and without fanfare, a bill seeking to divert state resources from UTK's Office of Diversity and Inclusion was sent to "general sub" during a Senate Education Committee meeting on Wednesday afternoon.  "General sub" essentially means that the bill will not be considered further unless the bill's sponsor seeks to re-calendar it, but that does … Continued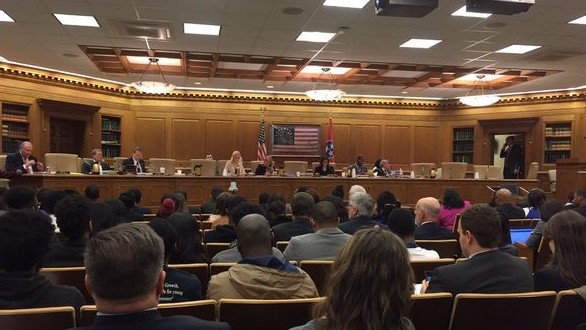 The Senate Education Committee on Wednesday voted to recommend a budget amendment, sponsored by Senate Education Chair Dolores Gresham (R-Somerville), that cuts and re-assigns $8 million from the UT Knoxville budget to UT Extension and to rural outreach through UT Martin and UT Chattanooga. Further, the amendment's language states "only federal funds shall be expended … Continued
Today, the University of Tennessee hosted Vice Admiral Harry Harris of the United States Navy.  Harris, a native of Crossville, Tennessee, currently serves as the assistant to the Chairman of the Joint Chiefs of Staff. During his campus visit, Harris received briefings conducted at the Howard Baker Center on the University's academic, research and public … Continued
Governor Bill Haslam's third higher education discussion was held today in Knoxville.  The first two discussions, held at Northeast State Technical Community College and the University of Memphis Lambuth Campus, respectively, have focused primarily on workforce development.  Today's discussion continued to mirror that theme.